Welcome to
Atomic Word Password Recovery
Atomic Word Password Recovery is designed to recover the lost or forgotten passwords for encrypted Microsoft Word files (*.doc files).
Current version of Atomic Word Password Recovery supports the most of the existing Word documents protected with the password (when the default RC4 or XOR encryption is used). In other words, the documents created in Office 95, Office 97, Office 2000, Office 2002, Office XP and Office 2003 should be opened without any problems.
Atomic Word Password Recovery may recover some file with the old type of the encryption fairly fast, guarantees decryption of the most documents (while it may take much time), and it uses the brute force attack in other cases.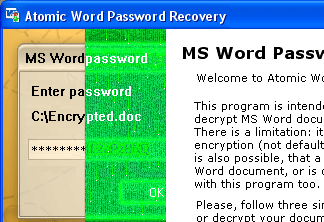 LEGAL NOTICE: The program is designed to restore the password of Word files that are the property of yours or you have the permission to do it from their owners only. The developer is not responsible for any illegal use of the program. Illegal use of the program is a subject to administrative or criminal responsibility according to the law of that country.
Getting started
Download the latest version of program
Registration details
Password recovery software